Safety Commitment
At Patriot Line Clearing, safety is our top priority. It is our responsibility to provide a safe workplace for all our employees.  Here at Patriot Line Clearing, we know that safety begins from the top down and everyone at the company is responsible for safety on the job.
To further provide our employees with a safe environment we have created programs to help with on the job safety.
We've Implemented Two Programs to Reduce and Eliminate Workplace Injury
STOP THE JOB
We have established a "Stop the Job" program that gives every individual the authority to "Stop the Job" and resolve any identified hazards, evaluate warning signs, ask questions, and discuss any uncertainties. Our goal is for everyone to go home safely every day. We have established this program to give every employee the power to identify and create a better working environment.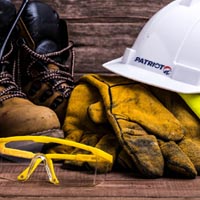 TAILBOARD MEETINGS
We have implemented "Tailboard Meetings". Tailboard Meetings are held at the start of the work shift, as work tasks or hazards differ from original briefing, and as additional personal arrive at the job site. The meetings shall include the components of the Job Hazard Analysis associated with the work steps, hazards associated with the work step, and ways to eliminate or control hazards.
Additionally, the Tailboard form is signed by everyone and will go over the following:
Identify roles & responsibilities.

Determine risk mitigation.

Documentation shall include I&I to be used.

Personal Protective Equipment to be used.

Emergency response information.
Our main goal is to have all our workers return home safely every day.